ANNOUNCING SEASON 2!
REGISTRATION NOW CLOSED FOR
2023 PEACOCK PREFERRED MEMBERSHIPS
It's time for Season Two of BW barrel selections that you can reserve, purchase upon release, and have shipped directly to your door in 41 states. (Please Note: only available in permissable shipping states).  SEASON 2 REGISTRATION NOW CLOSED.
During Season One, our members enjoyed outstanding selections from New Riff, Wilderness Trail, Bardstown Bourbon Company, and Four Roses.
We are pleased to announce that our first bottle for 2023 will be from woman-owned Buzzard's Roost.
Why Peacock Preferred? Well, just as the peahen carefully evaluates her peacock choice, the discriminating palates of Bourbon Women's panel of whiskey experts led by Master Taster, Peggy Noe Stevens, and Bourbon Authority, Susan Reigler, select the finest barrels from featured distilleries.
Our in-house experts, along with talented distillery women, collaborate on signature barrel picks, which we have affectionately called Bourbon Women Peacock Preferred. It is scientifically documented that, in general, women can detect more aromas and flavors than men, so our panels naturally choose some delightfully complex whiskeys.
HOW IT WORKS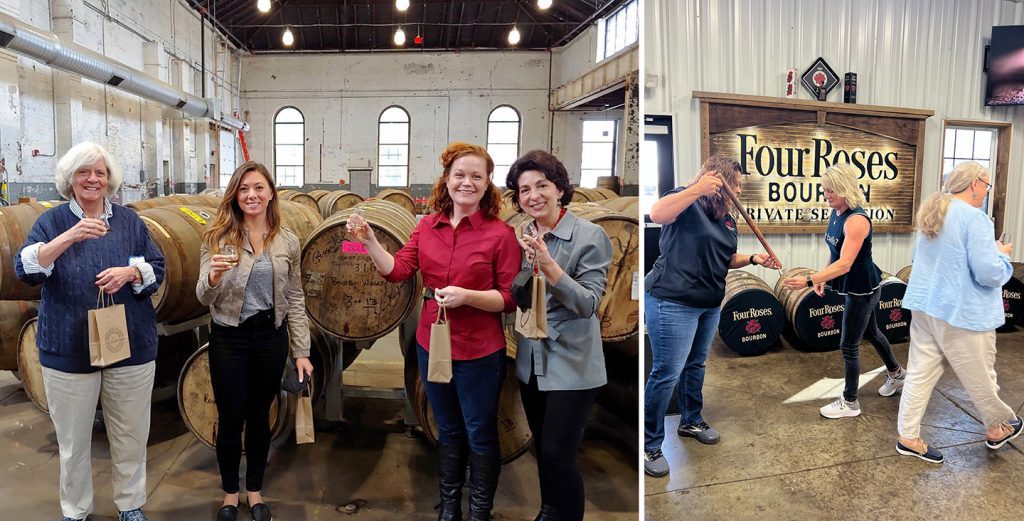 BW Peacock Preferred Annual Membership is limited to 150 individuals.
Each Peacock Preferred Annual Membership gives you the first opportunity to reserve, purchase, and enjoy four exclusive private selections of these very special, limited-edition single barrel Bourbons and Ryes. There is no waiting in line or risk of missing out.
If you are a Peacock Preferred member, you will be notified as each selection becomes available, at which time you will be able to go to the Peacock Preferred Link on the Bourbon Women website to purchase your reserved bottle through our retail partner. The cost of shipping directly to you will be calculated depending upon where you live.
The Peacock Preferred Single Annual Membership fee of $50 gives you access to reserve and the option to purchase 4 bottles (one of each selection). The Peacock Preferred Double Annual Membership fee of $75 gives you access to reserve and the option to purchase 8 bottles, (two of each selection) and assures your reservation.
NOTE: PRICES OF WHISKEYS PLUS SHIPPING ARE NOT INCLUDED IN THE PEACOCK PREFERRED MEMBERSHIP.
MEMBER BENEFITS
Your Peacock Preferred membership benefits assure you will have the best possible experience and enjoyment of our special whiskeys with these exclusive extras:
Full tasting notes and flavor profiles from the BW panel who selected the barrels
Food pairings curated by Peggy Noe Stevens specifically for each whiskey
The Peacock Circle Roundtable via Zoom with discussion and a question-and-answer session between members and the BW panel about each selection
Cocktail recipe created and customized for each whiskey by BW's own Heather Wibbels, the Cocktail Contessa
Enjoy videos of the selection process when they are available
Any bottles not reserved by a Peacock Preferred membership will be available to non-Peacock members and to members who wish to buy more after the initial release, as long as supplies last. Those bottles will NOT include the exclusive Peacock Preferred member benefits!
PEACOCK PREFERRED MEMBERSHIP LEVELS
1. Single Annual Peacock Preferred Membership – Only 125 available:
 Four Bottles are reserved annually– one of each selection is released approximately quarterly.
Cost: $50
2. Double Annual Peacock Preferred Membership – Only 25 available:
Eight bottles are reserved annually – two of each selection are released approximately quarterly.
Cost: $75
NOTE: PRICES OF WHISKEYS PLUS SHIPPING ARE NOT INCLUDED IN THE PEACOCK PREFERRED MEMBERSHIP.
IMPORTANT Information about Peacock Preferred
You will be notified by email from Susan Reigler, susanreigler@gmail.com , as selections become available. Please make sure Susan's email is in your address list so it does not go to spam. Whitelist or star this email so it won't show up in your promotions folder (especially Gmail users).
Bottles from each selection will have a purchase deadline date.
You'll also be quoted the bottle price, which is expected to be around $85 per selection. It might be a little higher for an extra special selection.
You must be 21 to join and to visit the website; please sip responsibly.
Any and all questions should be directed to susanreigler @ gmail.com.
Peacock Preferred FAQ
Why isn't my state on the shipping list?
Laws regarding shipments of alcoholic beverages vary widely from state to state. Even better, they are constantly changing. So, we are carefully monitoring changes in regulations. Your state may be added in the future. Or, alas, subtracted. But we'll stay aware of any and all changes.
Can I join if my state is not on the shipping list?
Yes. Please write to susareigler@gmail.com for details.
How often will I get my bottles?
Our goal is to have 4 selections in 2023, beginning in January or February. When exactly they will arrive depends upon availability for selection and time from barrel pick to bottling.
Watch the video from our first Peacock pick at New Riff in March of 2021: