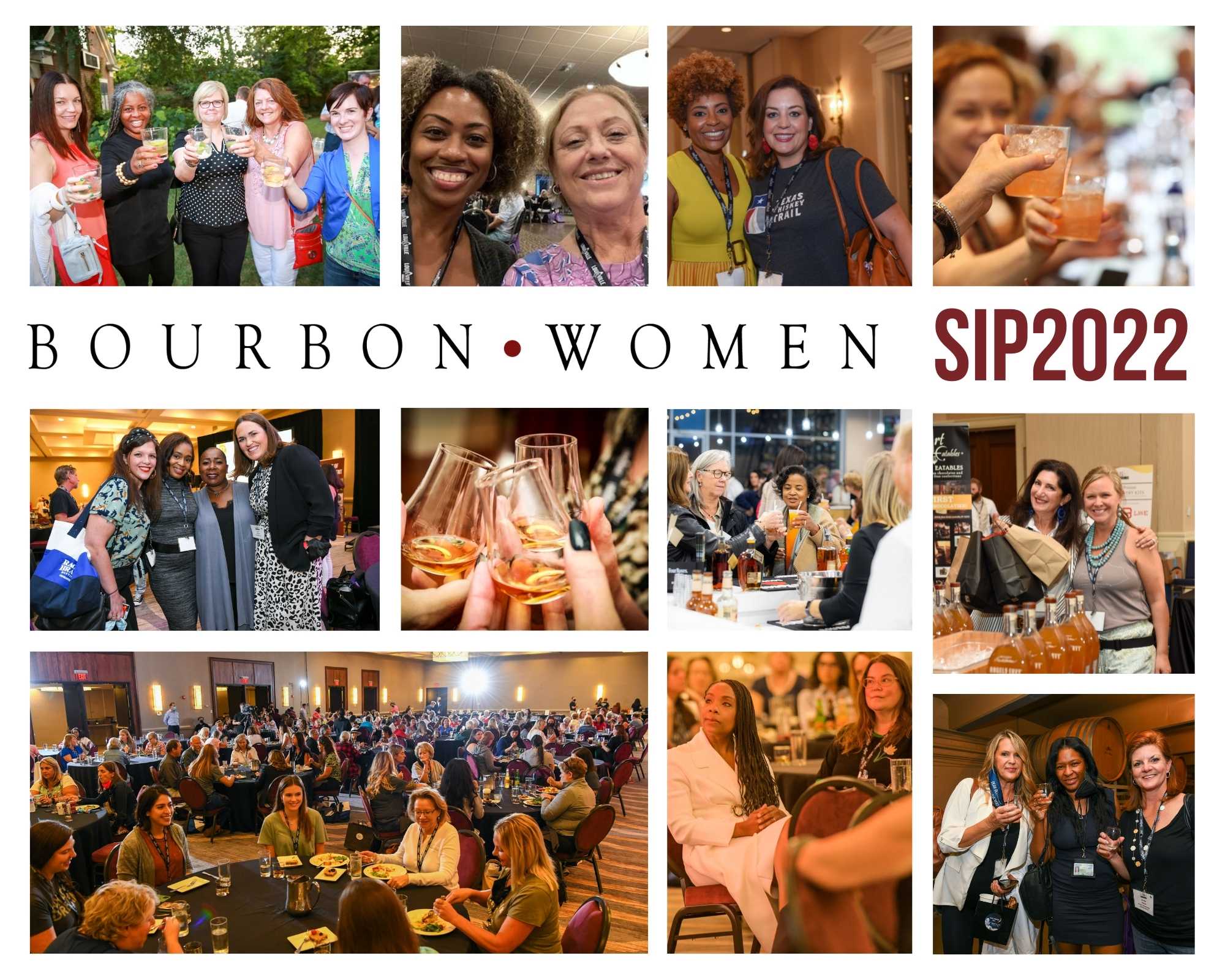 THAT'S A WRAP FOR SIPOSIUM 2022!
We loved hosting women from across the country at our Bourbon Women National SIPosium in 2022 August 25th-28th and we can't wait to see you again next year! We're already working on 2023 and looking forward to seeing you again soon. If you'd like to see some of the fun we had, search Instagram for #BWSIP22 or head to our profile highlights to look through social content shared by attendees. If you're a twitter geek, head here.    If you attended, check your emails from info @ bourbonwomen.org for a link to the photos taken at the event.
SIPosium 2022 SCHEDULE OF EVENTS
THURSDAY
10 AM | Add-on Bourbon-Nerd In-depth Excursions (extra ticketed events added to registration price):
Bardstown Bourbon Company: Bardstown Bourbon Company Immersive Tour & Sensory Experience: Bardstown Bourbon Company has become a leader in innovation and technology by creating over 50+ whiskey recipes in their state of the art facility located in the Bourbon Capital of the world. In this experience, guests will receive an immersive tour of the campus and facility followed by an in-depth tasting of Bardstown Bourbon Company's product through a sensory-training experience led by National Brand Ambassador, Samantha Montgomery. Guests will also receive a packed lunch to take back to Louisville.
Maker's Mark: The Women of Maker's: Then & Today: Join us for a journey to Maker's Mark Distillery at Star Hill Farm in Loretto, KY. While at the Distillery, you'll enjoy a lunch featuring produce from the Star Hill Farm garden. Additionally, you will learn about Margie Samuels and her contributions to the founding of Maker's Mark, see her collection of pewter that inspired the name, and spend time in a newly unveiled room honoring her legacy. While some things at Maker's never change, the group will chat with Jane Bowie, Head of Innovation & Blending, and taste what it means to innovate the "Maker's way." Finally, you'll visit our Lakeside tasting room, tucked in among the trees and overlooking our water source to discover the role nature plays in bourbon-making. You'll also craft (and enjoy) a cocktail with Amanda Humphrey while talking with Kim Harmon about how Maker's Mark keeps sustainability top of mind in everything we do.
Buffalo Trace Distillery:  A curated tour for Bourbon Women that explores our Distillery's rich history and exciting future.  Walk through time to see the Distillery as it was under the dutiful direction of EH Taylor Jr., George T Stagg, and Albert B. Blanton, and see the current ongoing expansion of our cookers, fermenters, and stillhouse, and more.  The tour will conclude with a tasting of our award-winning EH Taylor Jr. line. Lunch will be served after the tour. After lunch, explore the gift shop!
Moonshine University Certified Bourbon Steward Training (1 pm – 4 pm): The Certified Bourbon Steward membership is a program for bourbon enthusiasts from all walks of life. This in-depth program is designed so that once you're a Bourbon Steward, you'll be able to discuss America's native spirit confidently and accurately, as well as be able to make recommendations to friends, family, and others based on their individual taste and preferences.
7 PM to 9:30 pm | Mix 'n Mingle evening reception with nibbles and sips – sponsored by Rabbit Hole Distillery (included with general registration ticket) – 7:00 – 7:30 for new attendees
FRIDAY
8:30 am – 10 am | And They're Off Breakfast – sponsored by Bardstown Bourbon Company (included with general registration ticket)
9 am – 11 am | Sip and Survey – sample and rate products from our sponsors (included with general registration ticket)
11:30 am – 12:30 pm | Welcome Lunch (included with general registration ticket) Featuring Marianne Eaves for Sweetens Cove
12:30 pm – 1:30 pm | Keynote presentation by Jackie Zykan – sponsored by B-Line (included with general registration ticket)
2 pm – 4:30 pm | Excursions – Sponsored by Old Carter Whiskey Co., Rabbit Hole Distillery, Vendome Copper & Brass Works, Watch Hill Proper, Jeptha Creed Distillery, Heaven Hill Distillery, Woodford Reserve (2 specialty excursions require add-on tickets, the rest are included with general registration ticket)
5:30-6:15 | Angels Share Meet and Neat – reception for past and current SIP Scholarship attendees (invitation only) – sponsored by Russell's Reserve
6:30 pm – 9 pm | Welcome Dinner Experience at the Kentucky Derby Museum at Churchill Downs to celebrate Louisville's connection to both bourbon and horseracing- sponsored by Pinhook Bourbon, Bourbon & Biscuits, FSA Management Group and RealAmericanFlag.com (included with general registration ticket) *** Buses load at 6:30 *** The dinner portion will take place outdoors in the Oaks Garden Terrace, which is covered but outside. So, please plan accordingly!
SATURDAY
8 am – 9:30 am | Hearty Breakfast – sponsored by Michter's Distillery (included with general registration ticket)
9:45 am to 10:45 am | Workshops Session 1 – (included with general registration ticket)
Discovery Deconstructed: Speaker Dan Callaway of BBC. VP of Hospitality and Product Development. Bardstown Bourbon Company remains at the forefront of innovative blending through their Discovery Series. In this seminar, guests will participate in a complete tasting of the individual whiskeys that comprise Discovery Series #8. Through a sensory analysis on the individual components and final product, participants will have an insider's look into how BBCo creates their award-winning blends. Sponsored by Bardstown Bourbon Company.
Pernod Ricard Chopped: Bourbon Cocktail Edition: In this hands on session you will have the opportunity to create specialty cocktails and compete in a Chopped Style Bourbon Cocktail Competition. Attendees will be put into teams to create a unique cocktail which will then be presented to a panel of judges. The team with the best cocktail will be named Chopped Champion! Sponsored by Jefferson's Bourbon, Smooth Ambler, Rabbit Hole Distillery and TX Whiskey.
So You Want to Start a Bourbon Brand: Have you ever wondered what it takes to start your own bourbon brand or create a whiskey line from scratch? Enjoy this panel discussion of three women who have started their own bourbon brands and brought their vision and ideas of great whiskey to a reality. Get a chance to hear what it takes to start your own brand, and some of the lessons learned and strengths built by bringing your vision of a spirit to reality – getting sips to lips. With Brittany Penny of IX Bourbon Whiskey, Sherri Carter of Old Carter Whiskey Co and Becky Harris of Catoctin Creek. Moderated by Peggy Noe Stevens.
Tasting Africa through Whiskey: Food Pairings for Foodies! Hood Sommelier, Jack Beguedou will guide attendees through an immersive food experience pairing flavors of Africa with whiskey to break down palate flavors to discover how the vibrant flavors of Africa pair with and expand the flavors of whiskey. This tasting adventure includes amuse-bouche from Chef Ziba of Ziba's Bistro – one vegetable, one meat and one dessert selection – and a lot of fun conversation focused on expanding your bourbon palate to flavors that may be new to you!
The Alchemy of Blending:  Ashley Barnes,co-founder of the Spirits Group and Blender Extraordinaire –  What do baking and whiskey blending have in common? Join Master Blender Ashley Barnes as she guides guests through the various flavor profiles that can be achieved, utilizing the same base ingredients.
The Blind Experiment: Join Woodford Reserve Assistant Master Distiller Elizabeth McCall as she takes people through a sensory experiment — blindfolded.
We will taste different expressions (and a few experiments) that Elizabeth has aging in the warehouse. Then we'll see how the mind and the palate pull out flavor notes. Are you a better taster with all your senses working in tandem? How does your tasting ability change when you can't see the liquid? Come find out. You might be surprised what you're tasting. Sponsored by Woodford Reserve.
11:15 am to 12:15 pm | Workshops Session 2 – (included with general registration ticket)
Heirloom Corn in Bourbon – The Difference Corn Can Make: Speaker Joyce Nethery, Jeptha Creed Distillery, Master Distiller – See the difference corn can make in the flavor of your bourbon as we compare 3 bourbons made with the same mash bill; the only difference is the type of corn used. We will also taste the difference flavors in cornbread form and go over why different heirloom corn will give different flavors in bourbon. Sponsored by Jeptha Creed.
New Riff Rye Shop: Speaker Millie Lewis. Mollie will lead you through a tasting and discussion of this exciting, spicy grain that is winning fans around the world. Attendees will also be able to taste the grains and see how the flavor changes in the malting process through this exploration of 4 rye whiskey varieties from the New Riff Distillery. Sponsored by New Riff.
Oak 101: The Science Behind the Stave. Andrew Wiehebrink, Director of Spirits Research and Innovation with Independent Stave. Delve into the science and mystery behind the major factor in the flavor of your favorite amber spirit: bourbon. Andrew Wiehebrink, Director of Spirit Research and Innovation at Independent Stave Company, delves into the particulars of oak, its composition and how every step of preparation of the wood for bourbon barrels, from the trees selected, their location, how they're seasoned, toasted, charred and assembled create the flavor, mouthfeel and finish of bourbon. He'll discuss some experiments, some of his research, and the questions he and Independent Stave are still exploring. If you've ever wondered about what happens in the barrel, this is the session to attend.
Ship My Spirits: Consumer Advocacy and Putting the Power of Change in Your Hands. Speaker: Ainsley Holyfield, DISCUS – In the last 15 years, growing consumer interest in diverse spirits products has led to the increase in the number of distilleries in the U.S. from just 70 to more than 2,000. There are now more than 15,000 distilled spirits products in the marketplace. A modern spirits marketplace will allow residents of any state to buy the products they want, in the way they want, while allowing smart regulation to ensure responsible delivery. Learn more about Spirits United latest campaign, Ship My Spirits, as a way for you to take action to get your favorite bourbons shipped to your door and make a positive change for the spirits industry. Sponsored by Spirits United.
The Art of the Blend & Life of a Blender. Speaker: Lisa Wicker, Widow Jane, President, Head Distiller and Head Blender. Join Widow Jane's President, Head Distiller, & Head Blender Lisa Wicker as we explore the impossibly complex balance of art and science required to make world-class whiskey blends. Lisa will sample through component whiskeys, and guide everyone through crafting their own blend using the techniques she employs for each five-barrel batch of Widow Jane Bourbon. Moreover, Lisa will share for the first time her journey to becoming one of the most respected blenders in the whiskey world today, and her specific regimen for building, honing, and guarding her palate as the sole blender responsible for crafting Widow Janes award-winning lineup of Bourbons and ryes. Sponsored by Widow Jane.
The Proof is in the Barrel: How Barrel-Entry Proof Affects Flavor. Speakers: Andrew Wilson, Michter's Master of Maturation and Katherine O'Nan. Michters Warehouse and Blending Manager. In this session you will enjoy the experience of tasting through various proof whiskeys to learn the influences proof can make. Michters enters all its whiskeys into the barrel at 103 proof creating a rich smooth and easy to drink profile. In this tasting you will compare the same aged whiskey(s) entered into wood at 103 proof vs 125 proof. Learn about this and other philosophies of Michters. This tasting will include some blinds to help you recognize various influences. Sponsored by Michter's.
Vintage Spirits Tasting & Workshop with Shannon Smith, Co-Owner of Revival Vintage Spirits & Bottle Shop. Revival Vintage Spirits & Bottle Shop isnt a museum. Nor is it a speakeasy. Revival merges Kentuckys spirited history with a one-of-a-kind shopping and tasting experience. This vintage bottle shop, located in Covington KY, boasts a collection including rare bourbons, scotch, brandy, tequila, rum and gins for purchase and tastings! At the 2022 Bourbon Women SIPosium, co-owner Shannon Smith brings this experience and her expert knowledge to attendees – consider it a small "taste" of this unique Northern Kentucky location. *draft working description with details to come per Shannon's recommendations. Sponsored by The B-Line.
12:15 pm – 2 pm | Rounding the Turn Lunch – sponsored by and with tastings of TX Whiskey, Jefferson's, Smooth Ambler, and Rabbit Hole (included with general registration ticket)
2:30 pm to 4:30 pm | Mixed Bag Afternoon includes workshops, limited excursions, and a curated list of shops, stores, and restaurants to visit on your own (included with general registration ticket)
The Science of Taste- A Sensory Course with Beam Suntory: Join members of the Beam Suntory R&D team as they discuss the science side of tasting bourbon. Sponsored by Beam Suntory
Sherrie's Science Seminar. Speaker Sherrie Moore, formerly of Uncle Nearest Distillery and Jack Daniels Distillery. Join Sherri Moore, who worked as Director of Whiskey Production at Jack Daniels for over 30 years, then in the same role at Uncle Nearest until earlier this year as she walks attendees through an engaging seminar on the science of bourbon.
Tennessee Whiskey Masterclass. Speaker: Rawnica Dillingham, Uncle Nearest Premium Whiskey, Director of Specialty Markets. This session will provide a deep dive in the world of Tennessee Whiskey. We will start the experience getting hands on with Uncle Nearest Premium Whiskey, by making a cocktail to enjoy during the class. We will then explore the history of Tennessee Whiskey and the role Nearest Green played in it. The session will explain the category of Tennessee Whiskey and how it differs from Bourbon and other forms of American Whiskey. We will discuss the Lincoln County process and taste distilled whiskey both pre and post process.  Sponsored by Uncle Nearest.
The Best Bourbon Cocktails You Never Had. Speaker: Rhonda Cammon. CEO of Perfectly Cordial. Let's dive deeper past just lemon, lime and bitters. In this workshop you will create craft cocktails with Bourbon as the focus but Flavor as the new mixer. With items ranging from Hibiscus to Saffron you will mix, stir, and shake up new Bourbon creations that will transport you to global destinations but have a lingering flavor of Kentucky.
Hard Truth: Explore the World of Sweet Mash Bourbon and Rye Whiskey at One of the Most Exciting and Beautiful Distillery Experiences in America. Join Hard Truth's Master Distiller, Bryan Smith, for an in-depth, behind-the-scenes tour of the 325-acre wooded property. Visit the 18,000-square foot production distillery, full-service restaurant, forest-flanked terrace area and outdoor music space, barrel warehouse, and gardens before heading to the Hard Truth Tours & Tastings Center to explore their award-winning Hard Truth sweet mash rye and not-yet-released bourbon whiskeys.  Hard Truth is not only in the whiskey business, it's in the experience business.  Expect all of your senses — especially your palates — to be surprised and delighted on this all-access tour and tasting afternoon in beautiful Brown County, Indiana. Excursion.
Old Forester Distilling Co. Excursion. We will take people back to their childhood with a special "scratch and sniff" sensory experience — along with conducting a Taste Through History with the only bourbon brand to exist before, during and after Prohibition. Sponsored by Old Forester. Excursion.

On Your Own:  Shopping and exploration of Louisville
5 pm – 6:30 pm | VIP Selective SIPs (formerly President's tasting) (extra ticketed event added to registration price)
7 pm – 9 pm | Bourbon Women Bar-A-Rama – tasting tables, reception, and heavy appetizers (included with general registration ticket):  Time for whiskey and cocktails! We're celebrating our last night together with a fun party before you head out to events and dinners, or enjoy the heavy appetizers and spend the evening with your bourbon buddies! Join a bevy of fun brands to explore new whiskies and products as they show off their favorite products or cocktails at this special event. Heavy appetizers and pours and cocktails from our sponsors will be available.
7 pm – 9:30 pm | In a Bourbon House Private Dining Experiences – sponsored by Catoctin Creek Distilling Company, Widow Jane, and Ironroot Republic Distilling (extra ticketed events, added registration price)
8 pm | Silent Auction closes and pick-up begins
SUNDAY
8 am – 9 am | Hydrate and Heal Yoga – Sponsored by Lux Row Distillers  (included with general registration ticket)
8:30 am to 10 am | Rise and Shine "Hair of the Dog" Breakfast – Sponsored by Spirited United Powered by the DISCUS (included with general registration ticket)
Starting between 10:30 am and 11 am | Optional Sunday excursions to Log Still/Dant Crossing and Green River Distillery –  (Optional and limited seats, but included in general ticket registration, should you choose to stay longer) – Sponsored by Log Still/Dant Crossing and Green River Distilling
THANK YOU TO OUR PRESENTING SPONSOR

Click through to see our full list of sponsors for SIP 2022!