Bourbon Women is pleased to announce the winners of the Not Your Pink Drink contest held on November 10, 2022, in Louisville, KY.  This event, sponsored by Beam-Suntory's James B. Beam Distilling Co and Maker's Mark showed the attendees the expertise and beautiful palates of bourbon lovers from across the country when challenged to create a cocktail that highlights and elevates the bourbon.  Contestants entered their best bourbon cocktail as part of the annual competition celebrating bourbon in cocktails. Five amateur and five professional competitors presented their best cocktail to judges and attendees.
Professional Not Your Prink Drink Winner 2022
In the Professional division, first-time competitor Ramona Jackson, the Bourbon Bohemian of Atlanta won with her cocktail Pom Beam Sizzle: Jim Beam Black with pomegranate juice, and ghost pepper-rose-sage simple.  Her simple syrup was built on a base with rose water to create a complex and unique cocktail topped with a delicious foam.
1.5 oz Jim Beam Black
.75 oz Pomegranate juice
.75 oz Ghost Rose Sage Simple Syrup (Combine 4 oz sugar, 4 oz hot water, 1/4 de-seeded ghost
pepper, 4 tbsp dried rose. Steep and strain.)
.25 oz lemon juice
.75 oz pasteurized egg white
Add whiskey, juice, simple, lemon juice, and ice to the shaker. Shake vigorously until chilled and strain into a shaker. Discard ice and add egg white. Shake vigorously for 30 seconds. Strain into a coupe and garnish with ghost pepper, sage, and pomegranate.
Amateur Not Your Pink Drink Winner 2022
In the Amateur division, Krysia Rodak won with her delicious and comforting Falling for You – Basil Hayden, apple brandy, chestnut syrup, and bitters. Her use of chestnuts with Basil Hayden brought out all the flavors of fall in each sip.
Fall-ing for You
1.5 oz Basil Hayden
0.5 oz Apple Brandy (I used Copper & Kings)
0.5 oz Chestnut Syrup (see recipe below)
2 – 3 dashes Chocolate Bitters (I used Scrappy's)
Orange Spritz/Orange Twist
Build in the glass, over one large clear ice cube. Place all ingredients (excluding orange twist) in a glass with a large ice cube, and stir. Wipe the rim of the glass with orange rind, and express over the drink/spray with orange spritz.
** Chestnut Syrup Recipe
1.5 cups water
1 cup Demerara/Turbinado sugar
1 cup pre-peeled/roasted chestnuts *
1 cinnamon stick
1/2 tsp freshly grated nutmeg
Place all ingredients in a saucepan and bring to the boil. Let simmer for 5 minutes. Fine strain, add a dash of apple brandy. Let cool and store in fridge.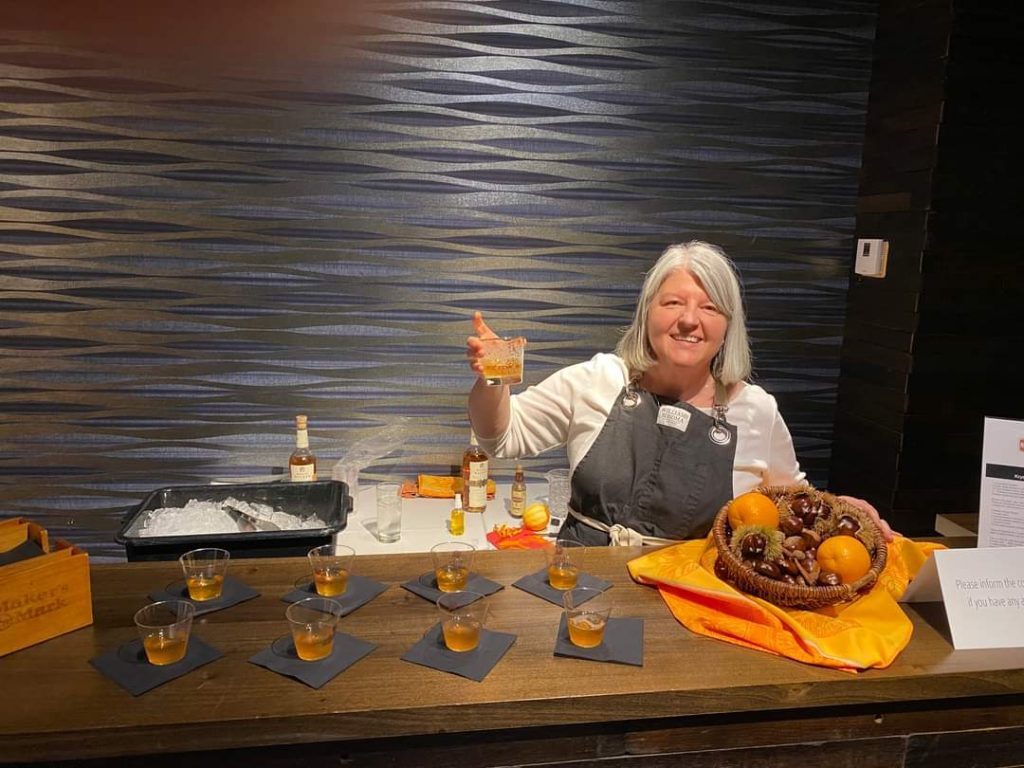 About Not Your Pink Drink
Each attendee of the event at River House Levee was able to sample all ten bourbon cocktails while the judges made the rounds from competitor to competitor to sample and evaluate each one.  The mixologists selected bourbons from Beam Suntory: Jim Beam Black, Basil Hayden, Knob Creek, Maker's Mark, Maker's 46, and Maker's Cask Strength. Cocktails were judged by bourbon and mixology experts including Victoria Russell Chief Diversity and Inclusion officer of Beam Suntory, Susan Reigler, bourbon authority, Felicia Corbett, Beverage Director at Trouble Bar, and Heather Wibbels, Managing Director of Bourbon Women. Beth Burrows, American Brand Ambassador for Beam Suntory worked the crowd as the MC, introducing competitors to the attendees during the competition and keeping energy high in the room.
At the contest, attendees had the opportunity to sample cocktails from all 10 finalists and voted on a People's Choice award.  This year Ramona Jackson's Pom Beach Sizzle won the People's choice award in addition to the Professional division award.
Thank you again to all the bartenders, mixologists and home bartenders who competed as finalists in this wonderful event:
Professional Division
Margaret Luckett, Bar Manager of Everyday Kitchen Louisville: Hey June – Brown butter washed Knob Creek, banana liqueur, allspice dram, Nux Alpina, bitters, rosemary
Nichole Roberts, lead bartender at El Mero Taco: Sweater Weather – Jim Beam black, cranberry-infused mezcal, rosemary maple syrup, cinnamon tincture
Karla Green, Creative Director – Beverage at Watch Hill Proper: Saint & Siren – Maker's 46, lemon, banana syrup, pineapple juice, Herbsaint
Ramona Jackson, the Bourbon Bohemian: Pom Beam Sizzle: Jim Beam Black – pomegranate juice, ghost pepper-rose-sage simple
Jessica Sarama, Bartender at Murphy's Pub: Let Me Shoyu Something – Maker's Cask Strength, lemon, tangerine, cinnamon-infused burnt sugar syrup, soy sauce
Amateur Division
Shannon Davis: Buck on Bourbon Street – Knob Creek, apple brandy, lemon oleo saccharum, bitters
Katie Mazur: Gingersnap – Knob Creek, gingersnap syrup, Nocino, bitters
Judy Routley: We've Come a Long Way, Margie – Makers Mark, dry curacao, Pamplemousse liqueur, grapefruit juice, honey
Krysia Rodak: Falling for You – Basil Hayden, apple brandy, chestnut syrup, bitters
Tina Tindall – Not Your Basic B*(bourbon) – Knob Creek, Amaro Montenegro, pear nectar, bitters, pumpkin spice syrup